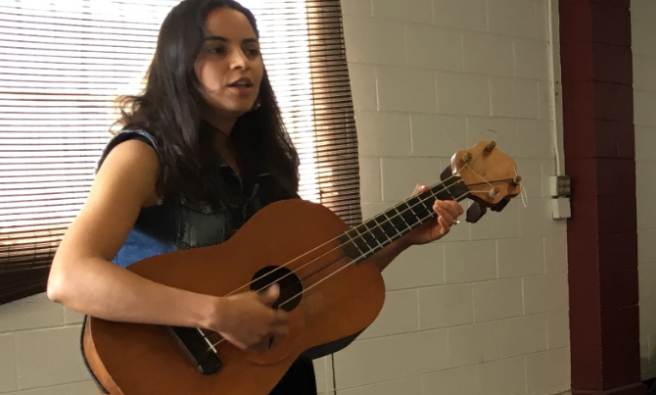 Center for Cultural Innovation (CCI) is partnering with Santa Ana Building Healthy Communities (SABHC) to develop and support the small businesses of Santa Ana's Latino residents and cooperativos. These efforts are meant to generate income, sustain cultural practices, and empower infrastructure for the underserved community of primarily immigrant, low-income Latino residents and business owners.
In our August post on the work in Santa Ana, we introduced Ana Urzúa Alcaraz who is an artist, an activist, the Campaign Coordinator for Santa Ana Building Healthy Communities (SABHC), and–most recently–the grassroots candidate in Santa Ana's 2016 Ward 3 City Council race. While Santa Ana's political news can hardly compete with national headlines in the aftermath of the 2016 Presidential election, it is worth exploring Alcaraz's story as an important microcosm–of the racial and economic environmental factors that shaped her journey from artist to candidate, and as an exploration of what potential role artists might have in their local economies and political landscapes.
Although she did not win the seat, that Alcaraz was considered a serious contender for City Council at all was astonishing. She was the youngest, least-titled, and only female to run in the election, which resulted in an all-male Council of candidates backed by the local police union, which also supported victorious incumbent, Mayor Miguel Pulido. But her involvement in politics was not at all surprising, given her background.
Alcaraz was born in Colima, Mexico, and moved to Santa Ana with her family when she was two years old. She was an early student–and eventually a teacher–of son jarocho, the regional folk music of Veracruz, Mexico which has been taught and practiced for years at Santa Ana's El Centro Cultural de Mexico. The performing group that developed there is called Son del Centro, and has attracted fans from around the world, including legendary artist-activist Zack de la Rocha, leader of the multiple Grammy-winning band, Rage Against the Machine.
Because Alcaraz found her early music community at El Centro, her political awareness developed in tandem with her artistry. El Centro has long been a powerhouse in local community activism, and Alcaraz has always leveraged her background in art, culture, and music in her work there and beyond. She eventually interned at United Healthcare Workers West (SEIU-UHW) while studying Anthropology at University of California, Irvine, and worked on voter registration, neighborhood organizing, and policy reform for the Orange County Communities Organized for Responsible Development (OCCORD) after graduating with honors. Her subsequent policy reform work with the Santa Ana Collaborative for Responsible Development (SACReD) led to the passing of the Sunshine Ordinance, which creates greater transparency in city governance and opportunities for participation in planning practices.
For Alcaraz, there is little distinction between culture and activism. Her ongoing advocacy work focuses on public health and equity, and she is inspired by the land rights and food sovereignty movements of indigenous communities in Belize, Colombia, and Southern Mexico which also bridge cultural practice and community cohesion: "It's important to create spaces for people to be who they are, express themselves authentically, and to be proud of their origins and identity even in Orange County, which sometimes is very racist and very difficult." Alcaraz is knowledgeable about the troubled history of Orange County, which has seen socio-political clashes since at least the 1920s when the Ku Klux Klan held positions on the Anaheim City Council; and as recently as the protests of February 2016 following an incident where three people were stabbed in a clash with members of the KKK.
Against this historical backdrop and challenging work as a social activist and cultural producer, Alcaraz is sensitive to the unequal power dynamics inherent in the 501(c)3 nonprofit funding model. As she stated:
I'm trying to create sustainability in our work, but there are many challenges to the traditional funding model. I wonder: why can't grantmakers' monies be funneled through us instead of through intermediaries? Also, how can the funding systems be changed to address the unequal distribution of resources and the structural racism and broken systems within this funding system? In addition, we are too often limited by numbers-driven reporting. Where are the transformative metrics that tell the story of how our people and systems are being positively changed? How can we evaluate strategies along with counting numbers? Of course funders want to place their resources where they will be managed well, but rather than creating monster organizations that absorb all of the funding for overhead, what if the decisions passed through us so that we could enable people who are traditionally out of reach, and help our people develop their own capacity? I think if we had the chance to be more creative and go beyond numbers, we might go to other places and achieve our ambitions.
What Alcaraz is describing is a redistribution of power and financial support that would circulate opportunity beyond institutions to reaching individuals, families, and community members on the ground. Given her awareness of power imbalances, Alcaraz operates in a non-traditional way within the 501(c)3 arts and culture granting ecosystem. She functions as a sort of micro-municipal agent within the Santa Ana political landscape, and has had to navigate a unique path to support her work as a culture-driven activist: "My path has been necessary because there are so many people left out by traditional grantmaking. It's fascinating to me to see foundations come into communities with a change strategy. That strategy hasn't worked for our approach. A lot of my work has been about inspiring people on the ground–that the solutions ought to come from them, and that they should have a seat at the table in decision-making." In short, Alcaraz embodies what it could look like when funders support artists' own agendas—supporting cultural practices, organizing community, and running for political office—a mix of activities that defy grantmakers' sector-specific silos.
Alcaraz acknowledges that CCI represented a different kind of funding with "very little restrictions or pre-set ideas." From CCI's perspective, the ability to support Alcaraz's and SABHC's myriad activities was only possible by valuing artists differently. Rather than adhering to a conventional definition of "artist" that privileges MFA-trained studio practitioners, CCI has shifted to acknowledging a wider spectrum of artistic practices that include cultural producers contributing socially. With that broadened definition of "artist," CCI perceives the various ways in which SABHC is making a difference—through micro-economics, small business development, cultural and community cohesion, and political engagement—as all within the realm of how artists contribute to society.
But support for artists' community-based work must go beyond project-specific funding. In order to realize Alcaraz's vision and impact, investments need to be made in both her social projects and her personal capacity for creativity and inner strength. Alcaraz related: "People have to make ends meet, so sometimes their creativity, or their heart's longing, or some gift that they have is suffocated by having to work multiple jobs so they can pay rent. But when I have a good breakfast, when I do some remedies and my immune system is good, when I sleep earlier and I sleep well, when I get to do stretching and dance movement–those things are fulfilling and nourishing. So, whether individuals have this enrichment—or not—has an impact on power structures. Empowering individuals' personal power connects to creating collective community power." In other words, Alcaraz's journey demonstrates that supporting artists is a pathway to community change, but investments in artists must go beyond studio-practice to investing in their personal and social capacity to make the kinds of differences we want to see in the world.